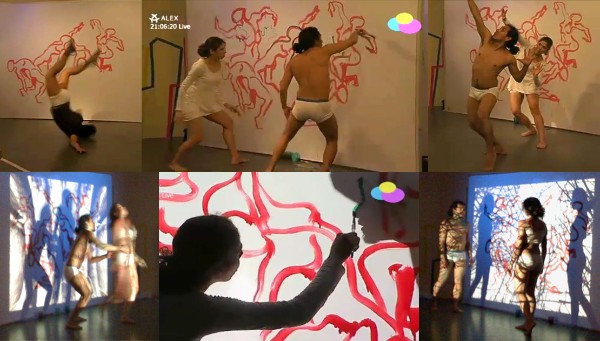 SPLIT IN TWO is an interdisciplinary performance for non-conventional spaces. Contemporary dance, live painting, video and performance art are mixed together in this project.
A 'Spliting in Two' is for the Indian shamans a liberation by natural means, a movement from the every day to renew, refreshing experiences. What happens when we walk deep inside into the (our) nature? When our rational and unconscious life confront in an unknown field?
The performance was produced for the International Exhibition Neukölln-import-2009 in the old Kindl brewery / Berlin. Then in 2010 in the event "Wild at arts - dance yourself" at the Direktorenhaus art centre in Belin and in a live broadcast / streaming by the TV channel Alex.
Performers
Rachel Sidiropoulou and José Fernando Andrade
Live Painting
Katya Saranduk
Video
Alexandra Goloborodko and José Fernando Andrade
Music
Jorge Porras and José Fernando Andrade
Direction
José Fernando Andrade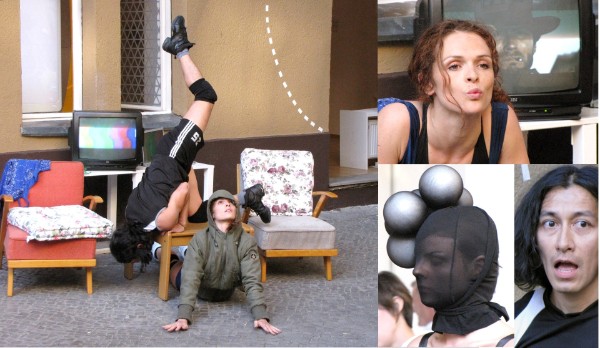 A living room with table, sofa and TV, a man and a woman. The characters exist in the performance and in the Virtual Reality. Old and new times come on stage: a mixture of habits, cultures and stories.
The idea of the performance is to compare our private and public life together, and how we exchange or change our roles. How well can you get to know a pair during a 20 minutes observation?
Contemporary dance, theatre, video and non-conventional venues are part of this parody of our multimedia life.
Performers: Jadi Carboni and José Fernando Andrade
Video: Alexandra Goloborodko
Music and mix: Jorge Porras and José Fernando Andrade
Direction: José Fernando Andrade
Project supported by the Kulturamt Neukölln, premiered at the 48 hours Neukölln Festival 2010, Berlin.
Das zentrale Thema dieses multimedialen Tanz-Theaterprojektes ist der Flirt, der erste Moment der Annäherung, die Illusion "Liebe". "illudere" = ins Spiel werfen.
Wir erforschen die verschiedenen Facetten dieses magischen Momentes: Wie hat sich dieser Augenblick historisch verändert? Wie spiegelt sich das digitale Zeitalter in ihm wieder? Wie verändert das sich ständig weiterentwickelnde Gehirn/Computer-Interface
die Kommunikation zwischen Liebenden?
In einer Welt, in der zu jedem Zeitpunkt die physische und die virtuelle Realität parallel existieren, beginnen sich die Grenzen zwischen diesen beiden ehemals so klar getrennten Räumen aufzulösen. Künstliche Paradiese im Cyberspace, Avatare, anonyme Identitäten, plastische Chirurgie, globale Identität und Status... Das Leben verwandelt sich in ein Rollenspiel, in dem sich multiple Persönlichkeiten an gesellschaftliche Stereotypen angleichen.
TANZ-SPIEL/ CHOREOGRAPHIE
Meritxell Campos Olivé (Spanien), Jose-Fernando Andrade (Kolumbien)
MULTIMEDIA
Video Regisseur und Script: Luis Bustamante (K)
Kamera 1 und Schnitt: Claudiu Toader (Rumänien) Kamera 2: Alejandro Gehr (Kolumbien/Deutschland)
Intro Sequenz: Georgina Espasa (S). Sequenzen aus der Kurzfilm "Der Mann im Fahrstuhl" von Moritz Stumm (Deutschland) mit Choreographie von Meritxell Campos (Tänzer: Jonas Büchler, Antonio Rodrigues, J. F. Andrade)
Musik und Sound-effekts: Jorge Porras (K)
Tonbearbeitung: J. F. Andrade mit Samples von J.S. Bach, Fennesz, Andy Boy, Punto Omega.
KOSTÜME UND ATREZZO: Ricardo Ramirez (K), Meritxell Campos (S).
LICHTDESIGN: Ricardo Ramirez (K)

REGIE, DRAMATURGIE, DREHBUCH
Jose-Fernando Andrade
PRODUKTIONSLEITUNG UND PR-ARBEIT
Joanna Tscherning (D)
PRODUKTIONS- UND BÜHNENASISSTENZ
Jennifer González (K)
Eine Coproduktion von Esfenoides und Das Pumpwerk
Mit freundlicher Unterstützung von X-Step
In Memoriam vom Yasmin Kalouti
Unter dem folgenden Link befindet sich die Kritik, die im Berlin-Special von der Hamburger-Theater-Kritiken-Webpage erschienen ist. http://www.hamburgtheater.de/page6030.html